Oia and its cobblestone streets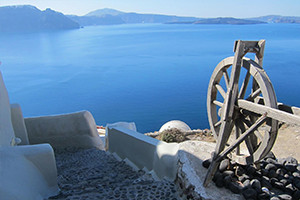 Oia, perhaps the most beautiful village in Santorini, is perched on a steep cliff. It should be part of any trip to the island. Ideally, you'll visit it during the sunset, as it is famous all over the world. The picturesque village, the whitewashed houses are all bathed in the light of the setting sun, creating a spectacle to remember. There is a reason couples choose Oia to stay when at the island, as it is considered the most romantic location of Santorini.
The Ancient Greek Oia was one of the two harbours of ancient Thera and was located in the southeast of the island, where Kamari is now.Oia reached the peak of prosperity in the late 19th and early 20th centuries. Its economic prosperity was based on its merchant fleet, which plied trade in the Eastern Mediterranean, especially from Alexandria to Russia. The two-story captains' houses built on the highest part of the village are a reminder of the village's former affluence. Part of the town was destroyed by the 1956 earthquake.
Oia typifies the white-painted houses of the Cyclades, in many cases built directly into niches which are cave houses used by crew of the ships, on the lip of the volcanic crater, between which are narrow alleys and blue-roofed churches with cupolas. The wealthy ship captains of the late 19th century built neo-classical mansions. These houses are seen built in succession one above the other